Marketing automation has become an integral customer engagement strategy for many businesses today, and it's easy to understand why. It allows you to increase your business and customer base without growing your employee base. Marketing automation may look simple on the surface, but it is not exactly a walk in the park.
Correct implementation of marketing automation will help your marketing and sales team become more effective in reaching their goals, as more effort can be directed to tasks that cannot be automated.
What is marketing automation?
Simply put, marketing automation involves using software to automate your marketing activities. Repetitive tasks such as social media posting, ad campaigns, email marketing, and so on can be automated easily. You can target your customers with custom/unique messages thereby giving them a more personalised experience with your business.
According to Statista, the global marketing automation market size is set to increase to about $25 billion in 2023 from just about $11 billion in 2017. This huge potential in marketing automation is also why about 49 percent of businesses are currently using different variations of Marketing Automation technologies.
Top 5 marketing automation tools
There are many marketing automation tools around, so let's look at some of the top tools currently in the market today.
Customer.io
Customer.io is a marketing automation software that lets you send targeted messages to customers based on their interactions with your business. One of the major selling points of the software is that it integrates smoothly with your site and app, showing you data in real-time.
Some other features the tool offers are conversion tracking, customer profiles, A/B testing. Also, it is not overly expensive, as the cost is primarily based on the size of your email list.
HubSpot
HubSpot is another top-class marketing automation software. This inbound marketing tool helps you easily convert outbound leads to inbound ones, and it is particularly good for content marketing. The software also offers you A/B testing for CTAs and emails, attribution reporting, user roles, and many other functionalities.
Marketo
Marketo is an automation tool that helps you drive revenue using mobile marketing, lead management, and so on. This cloud-based marketing automation tool is excellent for both large and small campaigns, it helps you build and sustain customer relationships. Marketo is considered to be the gold standard for fortune 500 companies because it was created with an intent to integrate with legacy customer database management tools which in turn allows companies existing for than 20 years to have an opportunity to view and nurture their legacy customers.
ActiveCampaign
ActiveCampaign provides email marketing, small business CRM, and marketing automation. One of its major selling points is the flexible and powerful marketing automation functionality. This tool is perhaps the most comprehensive marketing automation solution on the market, although it can be a bit complex and thus unsuitable for beginners. It is suitable and mostly affordable for small and medium-sized businesses.
InfusionSoft
InfusionSoft is one of the oldest marketing automation tools around today, and its functionality is one of the things that has kept it relevant for over 15 years. This tool is particularly good for small businesses. It allows you to set up decision trees that are based on behaviour and contact property data of your customers.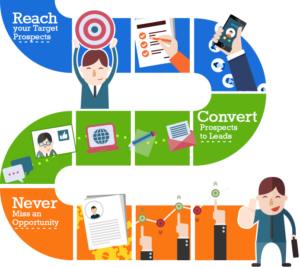 How to use marketing automation for demand generation
Content and Email Marketing
Content marketing involves creating awareness about your products or services. This is the basic idea of demand generation. You can use marketing automation tools to direct personalised content to your potential customers. By creating customer-specific campaigns, you move prospects closer to your service or product. You can identify targets using their behavioural trends, for instance, you can use a lead's interaction with your content as a measurement and qualification of their interest in your product.
Promotions and discounts
Unlike the old tactic of sending your discounts and promotions to everyone you can find; a more efficient strategy is to target people that are more likely to be interested in the products or services using marketing automation. For instance, no matter how sweet a deal promotion or discount on baby diapers is, a teenage boy will not have any sort of interest in it, therefore, using automated customer segmentation, you can direct fit-for-purpose discounts-oriented communications to the right audience.
Outsourcing marketing automation or building an in-house team
The question of whether to outsource or insource your business' marketing automation is more than just saying a simple "yes" or "no." This is because these two strategies have their advantages and disadvantages, so there are factors you have to consider before making a choice. Let's look at some of these factors.
Budget
Budget is one of the biggest determinants of the approach you take to marketing automation. Outsourcing your marketing automation to an agency is often more expensive than doing it in-house. So, if you don't have budget restrictions, you can consider outsourcing it.
Available resources
Before performing marketing automation, ensure that there are enough resources in terms of the required technical skills, creative talents as well as ability to optimally leverage existing mar-tech, as these would affect the results you get. Naturally, marketing agencies are more likely to have the required resources, as this is what they do. If you have the expertise and resources required for marketing automation, then you can consider insourcing it.
Specialised needs
It is possible for your business to have specialised needs when it comes to marketing automation and you can't find an agency that can provide for these needs. In this case, you would have to build an in-house team capable of catering for your marketing automation needs.
Bringing everything together
Marketing automation is a rapidly growing market strategy and for good reasons, as it helps businesses create a personalised experience for their customers. The proliferation of marketing automation has led to an increase in the number of marketing automation tools available on the market today.
Identifying and selecting a preferred marketing automation tool from the pool of tools available on the market may be a bit tricky. But I'll be glad to help you make an informed decision on the best automation tool for your business.
Please get in touch if you'd like to set up your marketing automation operations, I can help develop a proof-of-concept and an operational model for your digital marketing strategy and your overall demand generation goals.
Resources for further reading:
10 Marketing Automation Statistics You Need to Know – link
The 11 Best Marketing Automation Software Tools in 2019 – link
Marketing Automation – Insource Vs Outsource – link
How to Use Marketing Automation Correctly – link