In the previous months, I've spent time gravitating around motivation and will-power to getting things done.
I believe it is time to jump in to discussions pertaining to technicalities of business development.
In the coming weeks and months, I'll touch several operational and strategic aspects of business development. I will touch on demand generation, sales conversion, cross-functional and operational alignment within organizations, I will also try to highlight some aspects of people leadership and technical leadership.
From a high level POV*, I will be criss-crossing Finance, Marketing, Sales, and HR fields but I will mostly focus on execution and spare you all the theoretical jargons linked to these fields. Long story short, I will be telling you how to get s**t done.
Let's kick off this series with a basic concept of knowing your customer.
Buyer Personas
Hubspot defines customer personas as fictional generalized representations of a company's customers. In other words, as a company your buyer personas takes into account who your customers are, what their goals are, and how they behave throughout the buying cycle.
Retrospectively, only big companies showed interest and somehow implemented strategies to develop buyer personas. But it is increasingly becoming obvious that SMEs and Startups with limited funding are now seeking to clearly identify their buyer personals which allows them to engage potential customers more effectively while cutting down waste related to targeting broader audiences.
Why are Buyer Personas Important for My Business?
Having a deeper and clearer understanding of your existing and potential buyers allows you to contextually create and execute marketing campaigns based on buyer journeys, develop products in alignment with customer needs or pains, allows you to operationalize personalized sales engagement and basically helps you achieve your customer acquisition and retention goals.
Most importantly, you will be able to clearly report your ROI because this time around you've targeted your customers specifically and you are able to measure the effects on revenue.
How to Develop Buyer Personas
There are no specific rules or best practices to adopt when developing buyer personas. However, backward conceptualization is recommended. For instance, potential buyers' job title will be evaluated to understand the professional language to use while engaging them; their status in the buyer journey is then considered while drawing up the buyer personas.
The table below shows a simplified buyer persona development grid for a marketing manager seeking to promote a new product for her company.
| | | | |
| --- | --- | --- | --- |
| Job Title | Focus | Buyer Journey | RES* |
| CFO* | Potential ROI, Pricing Model | Awareness | Case studies with ROI metrics and Price sheets |
| Purchasing Manager | Product Price, Availability and Maintenance | Awareness | Product case studies and thought-leadership articles |
| CTO* | Product Functionality and Adaptability | Awareness | Case Studies, Product Demo, Free Product Consultations |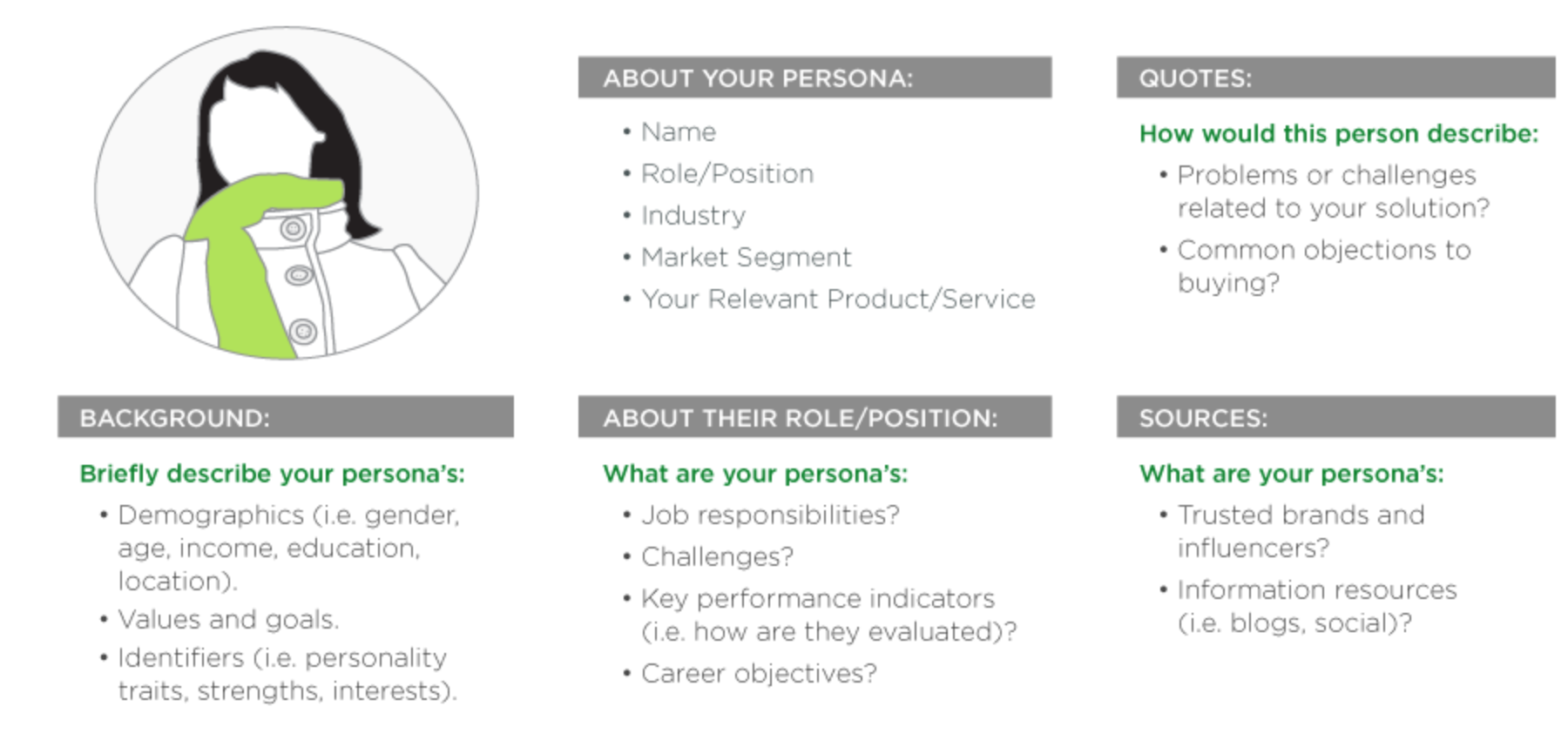 A drawback for buyers' persona development is the need for quality research, but its benefits trumps any challenges you may face.
The good news is that there are many free tools to use and the structure maybe adjusted to fit your product/business context.
Hubspot created MakeMyPersona, a tool that walks you through a number of key questions and prompts to help you get your persona to a starting point.
Bringing everything together, this effort to understand the people you want to reach boosts your marketing efforts by focusing on the people you can truly serve by filtering out the people you can't serve. They're a helpful part of your marketing toolkit which can help you focus on creating well-targeted content, communication style/tone/language and imagery, expectations and responsiveness.
You can also use personas to drive product development, or incorporate them into website analytics to test whether users respond the way you anticipate they will.
RES – Recommended Engagement Strategy
CFO – Chief Financial Officer
CTO – Chief Technical Officer
POV – Point of View
ROI – Return on Investment
Resources
Buyer Personas You Want to Use: The 9 Essential Parts
Buyer Personas Template